4 day Fes desert tour: Fes to Merzouga camel trek
4 day Fes desert tour: Drive from Fes to Marrakech on a private 4 days desert tour through Morocco Sahara desert. Enjoy camel trekking and desert camp seleep in Erg Chebbi dunes at Merzouga and more.
Trip Highlights
– Pass through Ifrane, a winter ski resort built by the French in the 1930's to resemble a Swiss village.
–Visit the cedar forest in Azrou and see the monkeys in the trees of the Middle Atlas Mountains.
–Drive along Ziz Valley.
–Camel ride tour sunset and sunrise in erg chebbi sand dunes.
–Spend the night in desert camps with Berber drums music under starry sky in the middle of the Sahara desert.
–Walk in Tinghir oasis and visit the Gorges.
–Drive along the road of 1000 Kasbahs, Roses valley and Skoura oasis.
–Visit Ouarzazate Kasbah Taourirt and the film studios.
–Visit the UNESCO world heritage site? Ait Ben Haddou Kasbahs.
–Cross the High Atlas Mountains and its Tizi Ntichka pass
Itinerary of 4 day Fez desert Tour
Day 1: Fez, Ifrane, Midelt, and Merzouga
We will leave Fez early in the morning, en route to Merzouga. Along the way you will see many attractions like Ifrane, the Swiss themed ski resort built by the French around 1930. From there we will pass through the forests in Azrou where you can see the native monkeys. A majority of the drive is spent traversing through forests, natural springs, rock-walls, and small villages. Halfway down to the Sahara Desert we will make a stop in Midelt for lunchtime, and marvel at it's history in fossils and rocks. The last leg of the journey to Merzouga will include a stop at scenic spot that boasts panoramic views of the area below. In the afternoon we will arrive in Merzaouga and celebrate with food and music, and turn in for the night in a traditional Kasbah.
Day 2: Merzouga
After resting and having breakfast, the adventure will continue by taking a 4×4 vehicle through the desert for nearly half the day. Along the way we will encounter the different appearances of sand dunes, pass through tiny villages, and potentially stop and have a drink with a local Berber family. After that we will make our way towards a cave, where you will get a lesson on how native people obtain fossils from the earth. We will refuel for lunch with a Berber family again, then prepare to head out via camel. The camel trek will give you an even better idea for what the desert landscape is like, and after about 2 hours of riding we will rest at a camp and spend the night in a Berber tent. The evening will be filled with traditional mint tea, food, and Moroccan music.
Day 3: Rissani and Gorges
In the early morning you will have a chance to make a short trip to the dunes and watch the sunrise, where the sun rises from just beyond the Algerian border line. We will travel by camel once again, back to the hotel where you will have a chance to shower and eat some breakfast. After that it's time to head out towards Rissani and the Gorges (Todra and Dades). Along the way in Rissani we will encounter monuments and areas of interest that have to do with the Alaouite dynasty. The area is Rissani is also home to over 350 Kasbahs, as well as many museums and market areas. After Rissani are the Gorges, which we will walk through and take in the beauty of the mountains and rivers. Once we arrive in Dades Gorge we will enjoy a traditional meal and rest overnight in a Kasbah.
Day 4: Ouarzazate, Kasbah Ait Ben Haddou, and Marrakech
After finishing breakfast and touring the gorges, we will stop in at the town of Ouarzazate, home of the Kasbah of Taourirt and the Atlas Studios. After that it's time to head to Fint Oasis, then travel the Tizi-n-Tichka road on the way to Marrakech. Along the way we will pause at a village lunch. In the late afternoon we will finally arrive in Marrakech. End of Fes Marrakech via desert tour.
Price (Standard accommodation):
| | | | |
| --- | --- | --- | --- |
| Group | 2 People | 3-4 People | For 5 people or more  |
| Price per person | 400 € | 370 € | 300 € |
Price Details:
PRICE INCLUDES
DOES NOT INCLUDING

– English speaking tour guide
– Transport ( 4 WD or Minibus )
– 2 night in Hôtel on half board
–  Overnight in the camp on half board
– Camels ride
– Free time to explore the sites such as Ait Benhaddou, kasbah, Walks, Canyons, Breaks for photos…

– Ticket flight
– Travel insurance
– Accommodation and meals in Fes and  Marrakech
– Drinks
– Lunches
– Entrance to Kasbahs and cinema studio…
– Traditional tips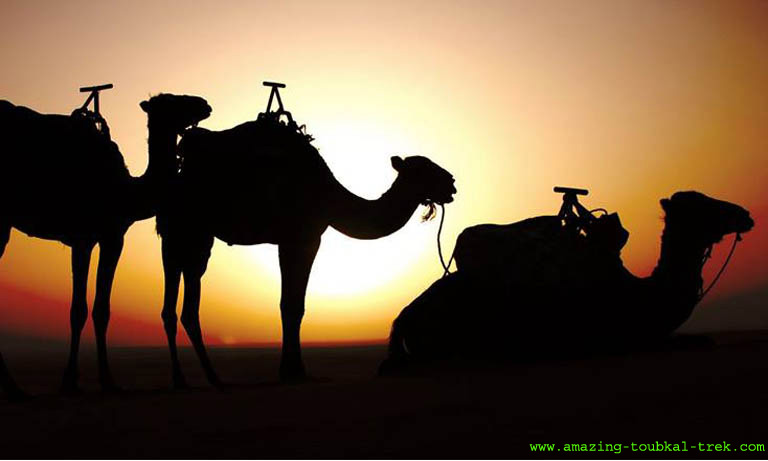 Additional Details
– This tour is available and can be arranged for groups of all sizes.
– Further discounts are available for group sizes over 8 people.
– To know the price in high class accommodation, please contact us.
– You can pay in €/$/£ or Moroccan Dirhams.
4 day Fes desert tour – Fes to Merzouga camel trek
4 day Fes desert tour: 4 days 3 nights sahara desert tour from Fez to Marrakech via Merzouga desert. Desert tour from Fes to Marrakech via the Atlas, Ait Benhaddou Kasbahs and to ride camels for one night in Merzouga.