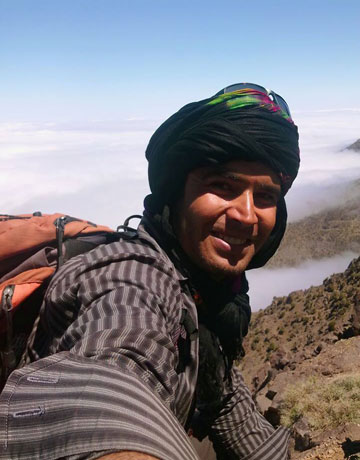 The Amazing Toubkal Trek team is led by Hassan Fadil, an experienced mountain desert tour guide. We were born and raised in the high Atlas Mountain of Morocco. We qualified from CFAMM in central high Atlas Mountain in Morocco and we speak the native Berber language and converse well in English, French, and Arabic.
We have worked for over ten years in the Tourism industry as a mountain desert tour guide with several European and USA Tour Operators & Travel Agencies leading their groups around Morocco. We also have a great depth of knowledge about the Abundant Flora & Fauna in the areas you will trek through.
With the most relevant knowledge about all tours & treks around Morocco, we are now sharing our experience & knowledge of our country with anyone who wants to know what Morocco has to offer. Hassan can help you organize your trekking in Morocco Atlas mountains, Sahara desert tours, and nearly everywhere and anywhere in Morocco.
Why choose Mountain Desert Tour Guide?
We have a trekking tour with a difference, we've got the experience, the passion, and skills, below are other reasons you need to choose us.
– We have graduates from mountain guide school in Tabant (CFAMM) to handle your tour.
– We're trusted and honest people.
– Languages spoke: The native Berber language, and can also converse well in English, French, and Arabic.
– More than ten years of experience in the field of Tourism.
– Expert in Flora and Fauna around Morocco.
– Personalized and booked trips directly with locals.
– We do our best for travelers with Let's high Atlas and desert get a cheaper, faster, and better way to travel.
– Expert in responsible tourism.
– Ecologically aware and will not do anything to damage the beautiful environment.
– Authentic travel.
– Safe local food.
– Honest and friendly muleteers.
– Personalized service.
– Tailor-made itinerary-specific requirements.
Feel free to contact us with any questions or concerns about your trip.