Djebel Siroua Trek is a 6-Day hiking Siroua Massif in the Anti-Atlas, where streams have cut through rocks, gouging out gorges. The ascent of Jbel Siroua gives a fantastic view out over all the high Atlas mountains. We invite you to explore the Safran region and Jbel Siroua, the highest peak in the Anti-Atlas mountains range.
Siroua is an extinct volcano area surrounded by Berber villages. The Siroua is a high and vast volcanic outcrop made up of ridges and residues of black lava. The region's snowfall creates ghostly apparitions. With its highest point at 3305m, Djebel Siroua is a world of its own and is a splendid sight for hiking due to its fantastic landscape, which has a deserted planet of stones and rocks on one side and is deeply carved valleys on the other.
Duration: 9 days
Period: October to November and March to June
Trek Grade: Easy to Medium
Maximum Elevation: 3305m
Accommodation: Guesthouse or Camping
Djebel Siroua trek allows you to:
–  Climb the volcanic peak of Mount Siroua 3305m
– Spend nights in a traditional Berber house
– Get an opportunity to see the remains of a volcanic eruption.
Itinerary of Djebel Siroua Trek
Day 1: Arrival
Arrival at either Marrakech or Ouarzazate.
Day 2: Marrakech through Tichka Pass 2200m to Tamllakout
We leave Marrakech early and drive towards the Tichka pass in the High Atlas. We'll have lunch in Aguim and on the road to Taznagt, then Anzel. Overnight at Tammllakout where we'll meet the team of muleteers. 6 hours drive.
Day 3: Tamllakout to Ait Tigga
After breakfast, we'll leave Tamllakout and walk down a plateau that boasts an enthralling view of the mountains. Lunch will be on this plateau which is very close to Tizouad village. We then continue our walk till we arrive at our camp near Ait Tigga village. Overnight in tents and the trek will take an average of 6 hours.
Day 4: Ait Ighemour to Azib Mgist
In the morning, after breakfast, we'll begin our journey to the village of Ait Ighemour. Five hours walk—overnight in tents. We will have lunch in the pasture and then climb a short way to arrive at the seasonal shepherd's home in Mgist.
Day 5: Azib Mgist through Siroua summit 3305m to Azib Iriri
From Azib Mgist, we'll begin the trek to Azib Iriri. We climb to the Siroua summit, which offers impressive views of the Atlas Mountains and the Anti-Atlas. We'll also have our lunch then descend to the pasture Iriri where we will spend the night in the camp. 7 hours trek.
Day 6: Azib Iriri to Takshost
Today after breakfast, we head trekking to Takshost village. We'll spend the night in a Berber guesthouse—5 hours trek.
Day 7: Takshost to Tamllakout
After breakfast, we'll continue to Tamazirt village. We will have lunch near the river amidst almond, walnut, and eucalyptus trees. We then proceed to Tamllakout, where we will stay the last night of our trek in the Berber gite. It is a seven-hour trek.
Day 8: Tamllakout through Tadart to Marrakech
After breakfast in the Berber Gite, we'll begin the long journey back to Marrakech. 6-hour drive.
Day 9: Departure
Breakfast then departure.
Price:
| | | | |
| --- | --- | --- | --- |
| Group | 2 people | 3 people | 4 or more persons |
| Price per person | 580 € | 540 € | 490 € |
Price Details:
Price includes the following
It does not include the following
– English speaking guide
– Transfers from and to your hotel
– Accommodation for trekking duration
– Mules for luggage carrying during the trek
– Kitchen equipment
– All meals during your trek
– Ticket flight
– Travel insurance
– Accommodation and meals in Marrakech
– Drinks
– Entrance fees
– Traditional tips
Essential Materials Needed For Djebel Siroua Trek
– Big bag of clothing
– Backpack for each daily supplies
– Good walking shoes and socks fit for rugged terrain
– 3-4 season sleeping bag
– Warm and light clothes
– Lightweight waterproof over-trousers/ rain-pants
– Personal First Aid Kit
– Sunglasses
– Suncream
– Head Torch
– Camera
– Hat
– Toilet tissues
– Water bottle or camelback
– Water purifier
 Additional Details
– The Djebel Siroua trek is available and can be arranged for groups of all sizes.
– Further discounts are available for group sizes over 8 people.
– You can pay €/$/£ or Moroccan Dirhams.
Djebel Siroua Trek: Trekking in the Anti-Atlas mountains, including The Ascent of Mount Siroua.
Photos – Djebel Siroua trek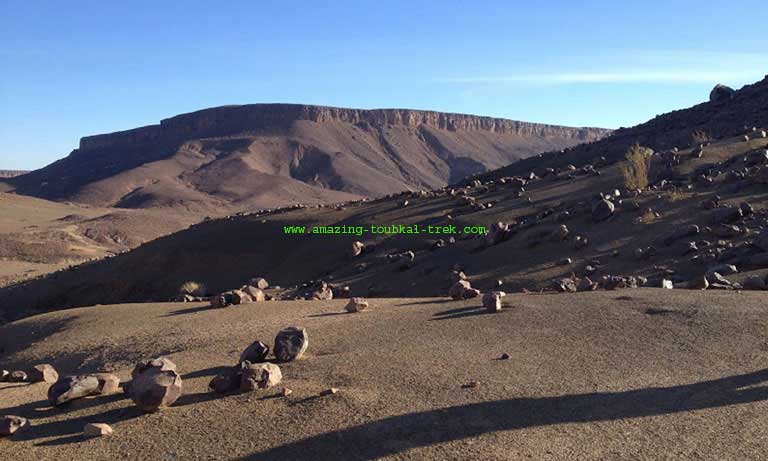 Hiking Siroua massif. Siroua trek.
Follow us on Facebook and Twitter.
You may as well be interested in