6-day Mgoun traverse: For those looking to explore trekking through Mgoun gorge, and the wildest valleys of Morocco. Mgoun traverse is an option to create an experience that is perfect for you. This trek starts from the beautiful Ait Bougmez to the high Atlas Mountains. We then trek through the deep gorges that lead to the renowned roses valley. The valley of Roses will give us a chance to experience untouched nature, in all its beauty. Other interesting views include the old fortresses of Kasbahs and the Berber villages perched on the sides of the mountains.
Total Duration: 8 days
Period: April to October
Trek Grade: Easy to medium
Max Elevation: 2900 metres
Accommodation:  Camping or Guesthouse.
Trek Highlights:
– Explore the most beautiful valleys in the high Atlas
– Meeting the natives of the Berber villages
– Discover spectacular Mgoun Gorges
Itinerary of  6-day Mgoun traverse
Day 1: Arrival
Arrival in Marrakech
Day 2: Marrakech – Ait Bougmez Valley (1800m):
After an early breakfast, we set off to the valley of Ait Bougmez, which is a five hours journey. There will be a picnic in Azilal. We meet our mule team at the Valley, and overnight in local Guesthouse. 5 hours drive.
Day 3: Timit (1800m) – Ait Imi Pass (2900m) – Mgoun Valley (2200m)
In the morning, we leave the valley and walk on a winding trail up to the pass, which has spectacular views of the Mgoun Massif and Happy Valley. We then take a long descent in the afternoon on a simple trail to Ouzighimt Valley. Overnight camping in the tents. Very close to Tighremet Ait Ahmed old granary, which was previously used for desert caravans. 6 hours trek.
Day 4: Tighremt'n n Ait Ahmed (2200m) – Ouzighimt Valley – Imi-n-Irkt (2000m)
We trek down along the Ouzighimt valley and pass through several Berber villages of El Morabitine, Wawchki, and Ighrem Izderne. We will meet the inhabitants of the valley, with the unique costumes and hairstyles of the Berber women. Overnight in tents. 6 hours trekking.
Day 5: Imi-n-Irkt (2000m) – Mgoun Gorges – Aguerzaga (1700m)
We leave very early in the morning, after breakfast for the narrow Mgoun gorges. We walk in water through towering narrow canyons. There is an alternative route to take, if the water is too deep, we could take the Tizi n' Ait Hamed pass. Lunch spot will be made at the exit of the Gorges. We will spend the night camping in tents near Aguerzaka. The estimated duration of the trek is 6 hours.
Day 6: Aguerzaka(1700m) – Roses Valley – BouTrar (1400m)
we continue our trek in the river, walking in water to the BouTrar Village. Overnight in local Gite. 5 hours trek.
Day 7: BouTrar (1400m) – Kelaa Mgouna – Ouarzazate – Tichka pass – Marrakech
We head back to Marrakech early in the morning after breakfast. You spend the night in the hotel. 6-hour drive.
Day 8: Departure
The flight back Home.
Price:
| | | | |
| --- | --- | --- | --- |
| Group | 2 people | 3 people | 4 or more persons |
| Price per person | 420 € | 380 € | 340 € |
Price Details:
Price includes the following
Price excludes the following
– English speaking guide
– Transfers from and to your hotel
– Accommodation for trekking duration
– Mules for luggage carrying during trek
– Kitchen equipment
– All meals during your trek
– Ticket flight
– Travel insurance
– Accommodation and meals in Marrakech
– Drinks
– Entrance fees
– Traditional tips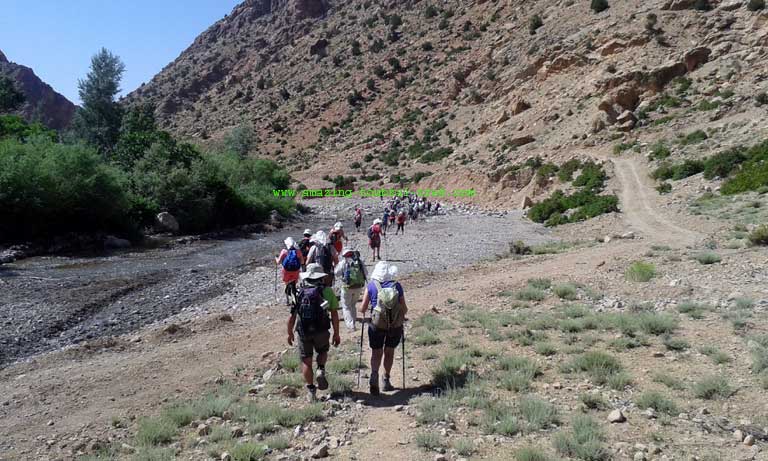 Materials Needed For Tour
– Big bag for clothing
– Backpack for each daily supplies
– Good walking shoes and socks fit for rugged terrain
– 3-4 season sleeping bag
– Warm and light clothes
– Lightweight waterproof over-trousers/ rain-pants
– Personal First Aid Kit
– Sunglasses
– Sun-cream
– Head torch
– Camera
– Hat
– Toilet tissues
– Water bottle
– Water purifier
 Additional Details
– The Mgoun traverse trek is available and can be arranged for groups of all sizes.
– Further discounts are available for group sizes over 8 people.
– You can pay in €/$/£ or Moroccan Dirhams.
6-day Mgoun traverse: 6 days trekking in Mgoun gorges to explore the valley of Ait Bougumez, and the canyon of Mgoun to finish in the Roses valley.